Jenny Mitchell can't remember a time when she wasn't dreaming of winning the New Zealand Gold Guitars.
Now she'll have to find another dream to aspire to.
After winning the intermediate final last year, 18-year-old Mitchell won the Overall Senior Gold Guitar title in her hometown of Gore on Sunday night.
"After last year's win I was hoping for what ever happens and I just wanted to go out there and have some fun.
"I've dreamt of this forever."
A song Mitchell penned herself and entered into a new singer/songwriter section, called 'What I've Learnt So Far' won her the overall title but she also won the female vocal solo, gospel and New Zealand song sections.
"I moved out of home this year to the big city of Dunedin and reflected on the decisions I've made and what I've learnt from the bad decisions I've made and I wanted to write about that, so that's what this song is about."
Mitchell is studying communications at Otago University.
She released her first album, The Old Oak, in 2015 and reached the finals of New Zealand's Got Talent in 2013.
The winner's prize pool this year was set to launch a musical career and  included having a single produced by a Nashville based music producer, production of a video clip, a mentoring package and attendance at a songwriting course in Australia, but Mitchell said despite competing in the Gold Guitars for 11 years she had never entered for the prizes.
"It's all about this piece of wood," she says, holding the guitar shaped trophy with previous winner's names on it. "This is a very special piece of wood to have your name on. It's all about this."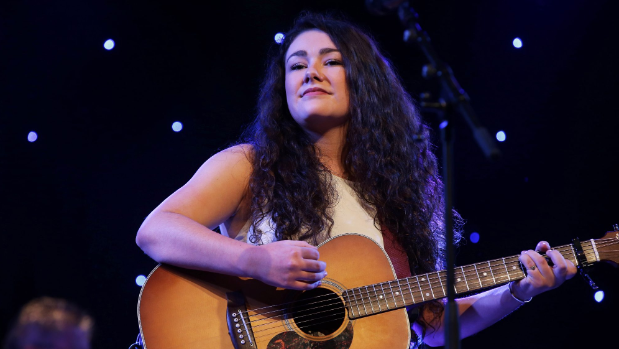 Robyn Edie
New Zealand Gold Guitar Awards publicity officer Shona Hewlett said the new prize package had lead to an increase in the number and the quality of performers this year.
More than 700 performers had taken part in auditions at several venues in Gore over Queens Birthday weekend.
"That would be one of the best finals we've ever had. Everyone was extremely well prepared and it was very high quality entertainment."
Flora and Sean of Dunedin were runners up for their performance in the traditional section, The Wanderers, of Invercargill, won the vocal group section, Dave Harraway of Kurow won the yodelling section, Jenny and Arun of Invercargill won the best duet, Valley Bluegrass of Dunedin won the open group section, Arun O'Connor of Invercargill won the male vocal solo section, Nick Brightwell of Auckland won the instrumental section and Jaydin Shingleton of Kaiapoi won the country rock award.
FOLLOW JENNY ON FACEBOOK